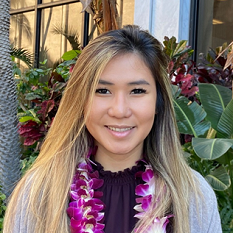 Ria Barqueros, CPA

Senior Tax Accountant
Hometown: Knoxville, TN
Education: University of Tennessee, Master's in Accountancy
Experience: Ria worked for FORVIS LLP, the 8th largest public accounting firm in the US. for 2 years. She also Worked with individual and business clients in various industries including auto dealerships, commercial products, construction, healthcare, private equity, and real estate.
Fun Fact: Ria grew up in Manila, Philippines until she was 17 and moved to the mainland in 2012. She recently moved to Oahu in November 2022.
---
Get In Touch
HiAccounting would be pleased to get in touch to discuss your accounting needs.
Locations
Maui Office
24 N Church Street
Wailuku, HI 96793
Phone 808.356.4357
Oahu Office
700 Bishop St. Suite 600
Honolulu, Hi 96813
Phone 808.529.9990
Office Hours
Monday - Friday
8:00am - 5:00pm
Closed on Holidays