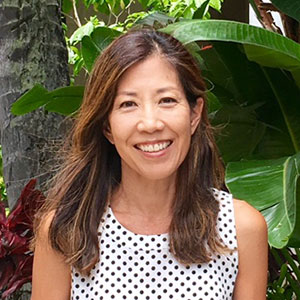 Kathy Au, CPA

Senior Accountant
Hometown: Manoa, Hawaii
Education: University of Hawaii—Manoa, Masters in Accounting
Experience: Kathy brings 32 years of public accounting to the HiAccounting team. She works with clients on income tax planning and preparation for individuals, self-employed, and small businesses. She is involved with the preparation of monthly and annual financial statements, bookkeeping services, general excise and use tax filings, payroll services, and accounts payable processing. She has worked in various industries including but not limited to: real estate investment and development, retail, construction contractors, not-for-profit organizations, personal service and health care.
Fun Fact: Kathy enjoys playing tennis.
---
Get In Touch
HiAccounting would be pleased to get in touch to discuss your accounting needs.
Locations
Maui Office
24 N Church Street
Wailuku, HI 96793
Phone 808.356.4357
Oahu Office
700 Bishop St. Suite 600
Honolulu, Hi 96813
Phone 808.529.9990
Office Hours
Monday - Friday
8:00am - 5:00pm
Closed on Holidays