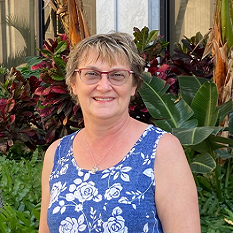 Billie Jo O'Brien

Bookkeeper
Hometown: Warsaw, Virginia
Education: Associates Degree, Rappahannock Community College
Experience: Billie Jo has accounting experience in the industries of specialty retail, education, media/newsprint, and transportation. Most recently, she was involved in the family accounting firm where she was responsible for payroll processing, bookkeeping, and assisting with income tax preparation. Transitioning to her role with HiAccounting, Billie Jo will be providing team support by also assisting with client payroll, bookkeeping and tax needs.
Fun fact: Billie Jo was her church pianist for several years. She has also taken a comedy improv class.
---
Get In Touch
HiAccounting would be pleased to get in touch to discuss your accounting needs.
Locations
Maui Office
24 N Church Street
Wailuku, HI 96793
Phone 808.356.4357
Oahu Office
700 Bishop St. Suite 600
Honolulu, Hi 96813
Phone 808.529.9990
Office Hours
Monday - Friday
8:00am - 5:00pm
Closed on Holidays