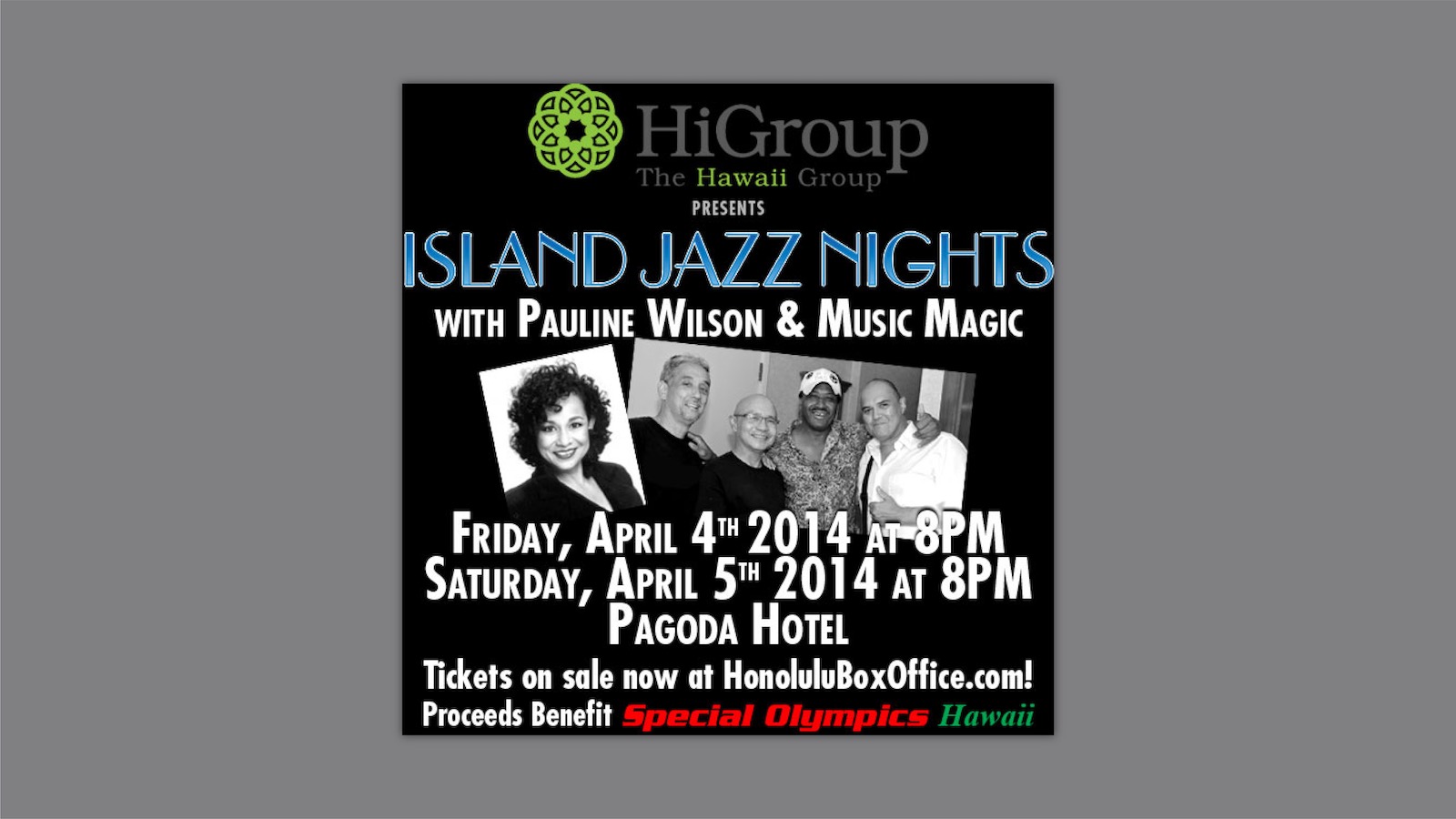 The Hawaii Group is proud to sponsor Island Jazz Nights with Grammy Award winning Pauline Wilson & Music Magic on April 4-5, 2014 at the Pagoda Hotel International Ballroom. Both shows will begin at 8:00 p.m. with proceeds benefiting Special Olympics Hawaii.
Pauline Wilson became Hawaii's first Grammy Award winning vocalist in 1980. She received a Grammy Award for her duet "Friends" with George Benson on the "In Harmony" album. She and her band performed in various clubs in Waikiki also fronting concerts for bands like Tower of Power, Deodato, War, Herbie Mann, and Cold Blood and were a mainstay for the acclaimed "Sunset Festivals" concert series held every year until in 1976, they moved to Los Angeles and changed their group name to "Seawind". They performed throughout the world and recorded five albums together.
Tickets for the concert series are available at honoluluboxoffice.com or by calling (808) 550-TIKS (8457). Ticket prices for each night are $65 for VIP which includes private pre-concert party with the performers, $45 for reserved front section and $30 for general reserved section.
For additional concert information go to islandjazznights.com or Island Jazz Nights on Facebook. Island Jazz Nights is presented by The Hawaii Group along with sponsors Ruby Tuesday Hawaii, No Hum Yet, Aqua Hospitality and Krater 96.3.
Get In Touch
HiAccounting would be pleased to get in touch to discuss your accounting needs.
Locations
Maui Office
24 N Church Street
Wailuku, HI 96793
Phone 808.356.4357
Oahu Office
700 Bishop St. Suite 600
Honolulu, Hi 96813
Phone 808.529.9990
Office Hours
Monday - Friday
8:00am - 5:00pm
Closed on Holidays